Thank You to Our 2024 Sponsors & Partners
Interested in Sponsoring?
If you would like to become a sponsor of our 6th Energy Storage Summit USA then please get in touch with the team today.
×
SunGrid has US headquarters in Houston, Texas, with global headquarters in Canada, and uses its strong execution focused team to deliver excellent partnerships across the North American Energy Storage sector. The company is focused on the BESS industry and brings its engineering-first delivery strategy to Turnkey and Balance of Plant EPC (Engineering, Procurement, Construction), and Integrated BESS enclosure systems, including its PowerPlay and SimpleOS platform. Having in-house engineering capabilities throughout North America allows SunGrid to take on projects from 250kWh to 1GWh. By focusing on strong Engineering as part of EPC and turnkey project delivery, SunGrid is a projects first company.

Recent milestone: Hull Street Energy (HSE) has made a substantial capital commitment to SunGrid Solutions (SunGrid), a leading Battery Energy Storage Solution (BESS) services company. The investment marks the beginning of a partnership between HSE and SunGrid led by its Chief Executive Officer, Jeremy Goertz, Chief Revenue Officer, Stefan Goertz and Executive Vice President, Jake Wang. Energy storage will be a critical component of the modern, decarbonized electric resource mix, and represents a growing, multi-billion dollar market.

For further information about SunGrid please see www.sungridsolutions.com.

×
Modo Energy is the all-in-one asset success solution for battery energy storage. It enables pioneers of energy storage to analyze past performance, benchmark the present and prepare for the future through in-depth data curation and analysis, asset benchmarking and unique research reports. The platform is trusted by 95% of owners and operators in Great Britain and has more than 6,000 users globally.

×
At ESS (NYSE: GWH), our mission is to accelerate global decarbonization by providing safe, sustainable, long-duration energy storage that powers people, communities and businesses with clean, renewable energy anytime and anywhere it's needed. As more renewable energy is added to the grid, long- duration energy storage is essential to providing the reliability and resiliency we need when the sun is not shining and the wind is not blowing.

Our technology uses earth-abundant iron, salt and water to deliver environmentally safe solutions capable of providing up to 12 hours of flexible energy capacity for commercial and utility-scale energy storage applications. Established in 2011, ESS Inc. enables project developers, independent power producers, utilities and other large energy users to deploy reliable, sustainable long-duration energy storage solutions.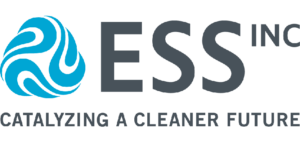 ×
Current± is the leading source of news, insight and opinion as the energy transition accelerates. Current± engages with its readers on a daily basis. News stories, insightful blogs, in-depth analysis and carefully selected guest content are uploaded each day, and our Daily Snapshot emails inform more than 14,700 industry professionals every morning. Since its launch in May 2018, traffic has more than trebled as Current± has found its footing within the energy transition, and we have sizeable plans for its growth moving forward.

×
Energy-Storage.news offers a full news service along with in-depth analysis on important topics and industry developments, covering notable projects, business models, policies and regulations, technical innovations and more. The website, from the makers of PV Tech, is an essential tool for anyone within the energy storage value chain.

×
Environmental imperatives, including the need to combat global warming, require that majority of nations contribute substantially to the transition from fossil fuel reliant energy sources to renewables. These motives will be achieved best in the cooperative manner. We have therefore established Borderless Renewables both to foster public-private investment with this aim and to promote cross-border collaboration on projects and ventures supporting an energy transition agenda.